To make it easier for you to send emails in the curriculum process, you can use the Email tool. You can find it under the menu item "Administration → Mail". There you will see the following view.

Send email
First, select (if not already automatically selected) the department and discipline for which you want to send emails. The members of the department are listed grouped by their roles in the displayed categories. Place a checkmark for the groups you want the email to go to. For example, to send an email to all lecturers, check "Lecturers".
If you do not want to select an entire group, you can click on the plus symbol to display all members of a group and select them individually. On the right side, you will see which recipients are currently selected.

The members of the groups are continuously synchronized with the registered users of the MyCampus software and are therefore always up-to-date. This means that you do not have to check the selected recipients for completeness.
Once you have selected all groups or recipients, you can write the email as usual and attach files if necessary. If you want to receive a copy of the email, check the corresponding box and then click on Send Email.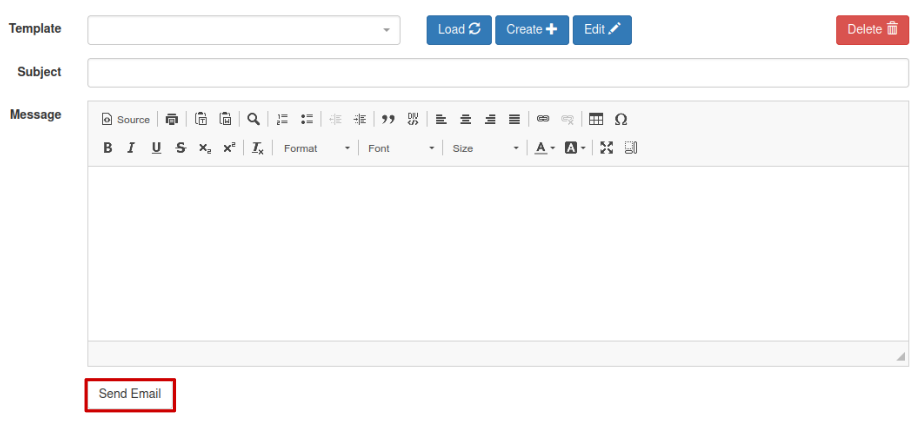 Email templates (Department admins only)
If you have department admin rights, you can create email templates to avoid having to rewrite emails sent regularly. To do this, click the Create button, enter the subject and text of the email in the window that opens, and save the template.

To use a template, select the appropriate template from the drop-down menu and click Load.

Note: The recipients of an email are not saved in the template, so you must also check the appropriate boxes at the top when loading a template.
To edit or delete a template, load it and then click Edit or Delete respectively.