In the comparison tool for instances and templates, you can display the differences between instance and template data and, if necessary, transfer the data from the instance to the template and vice versa. To get to the overview, go to the menu item "Course planning → Data Quality → Instance/template comparison".
If not preset, select the desired department and semester of the instances you want to compare and click on View. You will now be shown a list of all instances of the corresponding semester whose data differs from the data of their templates.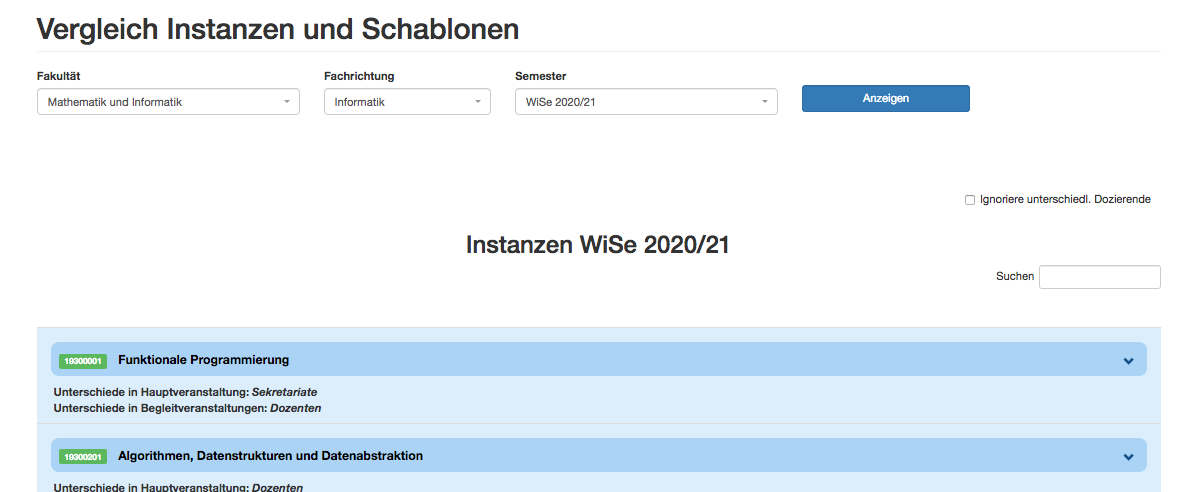 Below the instance name there is a list of the categories in which there are differences between the instance and the template.
In most instances the lecturers differ from those in the template, because in the templates usually all lecturers are listed who can take over the corresponding course or who usually take turns, while in the instance only the lecturer actually conducting the course is entered. To display only instances where there are differences in other categories, check the Ignore different lecturers box. Lecturers.
To search for a specific event, you can use the search field. To see the details of the differences between an instance and its template, click the down arrow on the right in the field of the corresponding instance.

The detail view opens, in which you can switch between the tabs Basic data, Texts and Supporting events. In each tab, the differences are listed in a table.
If you notice that changes in the instance should be valid beyond the semester (e.g. updated event descriptions or literature lists), these should also be transferred to the template. If you notice that data in the instance has been changed accidentally/inappropriately (e.g. a capacity change or deletion of a co-curricular event), then copy the original data from the template back into the instance. For both cases, all you need to do is click Copy in the corresponding row. This makes the change in the template or instance.