As soon as you have created an exam appointment in the curriculum system, it will also be synchronized to the calendar of the whiteboard page of your course on the following day. This allows you to easily activate the exam registration for students on the whiteboard using the Exam Registration tool:
(A prerequisite for this option is the prior creation of an exam date in the curriculum system, as explained here).
Activate exam registration
Click on Exam Registration in the Whiteboard menu bar.

Note: If you do not see the tool in the menu bar, you need to add it under "Site Info" as explained here.
You will now be shown the page for exam registrations. If any registrations are already enabled, they will be listed in the table.
Click Prüfung hinzufügen.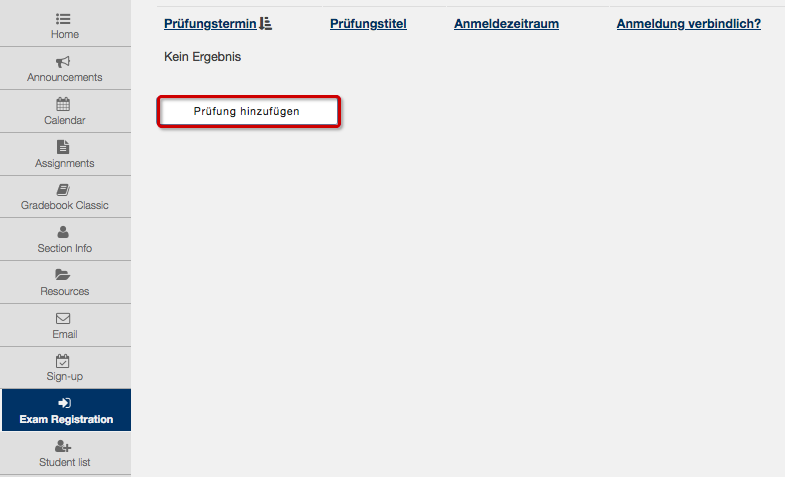 Now you can select the exam date for which the registration should be enabled from the drop-down menu. Then click on Fill in fields to automatically enter the data for the corresponding date into the form.
By default, the next working day is automatically entered in the "Log on/log off from" field, and the date 7 days before the test is entered in the "Log on until (inclusive)" field. However, you can change these dates if desired.
In the "Additional information" field, you can make additional comments about the exam registration, which will then be displayed to the students.
Click on Create to complete the process.
Students can now register for the exam as of the specified date.
In the table of exams, you will see the exam date. In the column "Registrations" you can see how many students have already registered. By clicking on the link you can view the names, matriculation numbers, etc. of the registered students and download the list of enrollees as an XLS or CSV file.